Ordinary Creatures
Director: Thomas Marschall
Austria, 2020, feature film, 75 min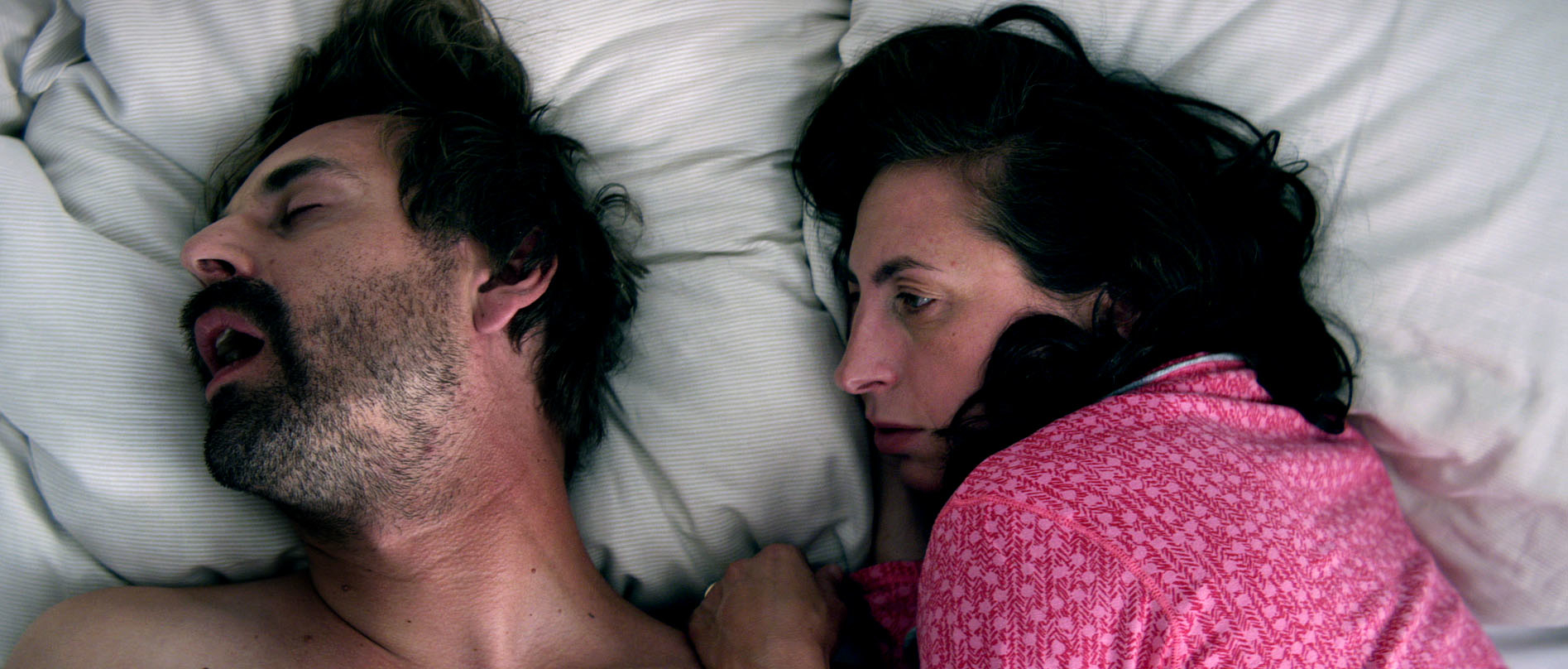 Synopsis
"Keep your eyes on the road, your hands upon the wheel", Martha and Alex should have taken
Jim Morrison's advice to heart, but on their car ride through an idyllic landscape they are primarily
occupied with themselves. Only when real life comes crashing into their small self-involved world
in the shape of a little dog and its grim owner, do things get set in motion – more than they could
have asked for. A devious road movie full of hefty surprises.
Link to Movie Trailer

Austrian cinema release: 21.05.2021 / Stadtkino Filmverleih

Festivals 2020:
Hof International Film Festival (world premiere)
VIENNALE (Diagonale Collection – The Unfinished)

Festivals 2021:
Beverly Hills Film Festival
FANT Bilbao
Long Island International Film Expo
GALACTICAT Catalonia
Athens International Film Festival
Cinefantasy Sao Paulo
International Road Movie Festival Pilsen


Cast
MARTHA Anna Mendelssohn
ALEX Joep van der Geest
ETERNAL EVE Lynne Rey
LADY IN RAGE Anat Stainberg
GRRRUMPY HUNTER Alois Frank
MEAN MECHANIC Robert Slivovsky
SPEECHLESS WAITRESS Angela Christlieb
NEEDY DUTCH MOM Sarah Moeremans
YOSI Yosi Wanunu
JACKY O Jackie O
Crew
DIRECTOR Thomas Marschall

SCREENPLAY Anna Mendelssohn
Thomas Marschall

CINEMATOGRAPHER Martin Putz
SOUND Tong Zhang
Florian Rabl

EDITOR Stefan Fauland

MAKEUP ARTIST / COSTUME / Wiltrud Derschmidt
SET DECORATION
PRODUCER Daniela Praher



SCREENPLAY CONSULTANT Stephan Richter

DRAMATURGICAL ADVISOR Michael Palm
ENGLISH TRANSLATION SCREENPLAY Sophie Gertrude Strohmeier
STORYBOARD TC Hrdina
SCRIPT / CONTINUITY Laura Piringer

LINE PRODUCER / PRODUCTION MANAGER Daniela Praher
LOCATION MANAGER Jona Simon
PRODUCTION COORDINATOR Anja Kogelmann
PA / SET RUNNER Danae Carcabassi

LOCATION & CAR SCOUTING Hannes Salat
ADDITIONAL LOCATION SCOUTING Edith Schild
Hella Fidesser
Schorsch Böhme
Marianne Tonn

PROPS Daniel Wagner-Schönfeld
MECHANIC VOLVO Bernhard Vrabic
DRAWBAR VOLVO Andreas Bössner
ANIMAL TRAINER Katja Hawliczek
SET PHOTOGRAPHER Thomas Weilguny
ADDITIONAL ACTING / TAREK Faris Rahoma
ADDITIONAL ACTING / KHADISHA Stefanie Sourial

ASSISTANT CAMERA Jakob Grasböck
ELECTRICIAN Laura Wichmann
SUN, MOON & SPARKS FILMED BY Stefan Vucsina
PRE-PRODUCTION ASSISTANT CAMERA Bernhard Schlick

ASSISTANT EDITOR Luzia Johow
PRE-PRODUCTION EDITOR TEASER Georg Eggenfellner
EDITING FACILITY Christian Leiss Postproduction
POSTPRODUCTION SUPERVISOR Stefan Fauland
DIGITAL COMPOSITING / VFX Michael Brandstetter
ADDITIONAL VFX Stefan Polasek
ADDITIONAL DIGITAL COMPOSITING Patrik Pachler
COLOR GRADING / DCP Bernhard Hochenauer
TITLE DESIGN Mathias Fellner
SUPERVISING SOUND EDITOR Tong Zhang
RE-RECORDING MIXER Rudolf Pototschnig



ORIGINAL SCORE BY Jorge Sánchez-Chiong
MUSICIANS Martin Siewert
Guitars, Lap Steel, Papoose, Bass

Jorge Sánchez-Chiong
Vibraphonette, Percussion,
Analogue Synthesizer, Sampler
Original music recorded and mixed by Martin Siewert, Vienna

Music

Hirtenruf vom Rigi
(trad. Schweiz; Bearbeitung Urs Klauser & Beat Wolf)
Urs Klauser: Schweizer Sackpfeife
Beat Wolf: Schalmei
CD "Tritonus – Alte Volksmusik in der Schweiz" (Zytglogge-Verlag, Basel, 1991)
www.tritonus.ch
Vulnérable
Music & Lyrics: Emanuel Rudas, Vincent Wohinz, Jürgen Bauer
© 2020 Plexus Solaire
Überführn
Urheber: Volkslied
Bearbeiter: Anton Hofer
Chor: A cappella Chor Tulln
Choreinstudierung: Gottfried Zawichowski
Les Adieux
Music & Lyrics: Emanuel Rudas, Vincent Wohinz, Jürgen Bauer
© 2020 Plexus Solaire
They Were Wrong
Written and performed by Larkin Grimm
2008
Lightning
Written by Bianca Caruso and Lee Ferris
Performed by Freddy & Francine
Mooselookmeguntic Music BMI / LeeFerrisMusic BMI
2010
Thanks to
Barbara Fränzen, Karl Hufnagl, Brigitte Winkler-Komar, Birgit Maimer,
Katharina Meißnitzer, Sylvia Fassl-Vogler

Juliana Neuhuber, Christian Leiss, Sylvia Eckardt, Daniel Hoesl, Catalina Molina,
Paul-Julien Robert, Atanas Tcholakov, Chris Strachwitz, Kornelia Kilga,
Michael Strohmann, Sharon Nuni, Vincent Lucassen, Dominik Hruza, Hella Fidesser,
Georg Böhme, Michael Harmer, Florian Harmer, Peter Melichar, Ronnie Seunig,
Claire Schönborn, Erna Ströbitzer, Jasmin Linzer, Olaf Möller, Karin Harrasser,
Armen Avanessian, Familie Wieshaider, Katharina Kraus, Barbara Riedl,
Johannes Klos, Blanka Kasparova, Philipp Dalos, Frances Holliss, Maya Holliss,
Adam Heart, Anne Laurent-Delage, Martin Schweighofer, Norman Shetler,
Wiktoria Pelzer, Ines Kaizik-Kratzmüller
Albert Barth, Flott Autovermietung, Abschleppdienst Machalek, Aon Jauch & Hübener,
ÖAMTC, ASFINAG, Traum & Wahnsinn Medienkollektiv, Österreichisches Filmmuseum,
Österreichisches Volksliedwerk, Excalibur City, IKEA, McDonald's, Stift Klosterneuburg,
Toxic Dreams, Rosenberger Restaurant GmbH, Kaiserrast, Löffler Autowäscherei, Tankstelle
Brenner, Windischhütte, Donau Rollfähre Korneuburg-Klosterneuburg, Uferhaus Klosterneuburg,
AFC - Austrian Films, Stadtkino Filmverleih
Filmed at locations in Lower Austria, Vienna and Znojmo/Czech Republic
Special thanks to
Barbara Strachwitz, Elisabeth Menasse, Dorothea Brunialti, Alexander Franz Zehetbauer,
Jutta Schwarz, Anna Scheer, Benni und Leeni Marschall de Mendelssohn, Plexus Solaire

Produced by
PRAHERFILM

Project Development at
ProPro - The Producers' Programme for Women
An Initiative of the Austrian Film Institute to Empower Women Film Producers

Supported by
Bundeskanzleramt
Land Niederösterreich
Stadt Wien MA7
© 2020 Daniela Praher Filmproduktion

Links to:
Austrian Film Commission
facebook